All our products are made by hand created using the finest materials and finished with traditional craft skills to ensure the finishes are amongst the hardest and most durable in cast stone.
All our products are frost proof.
Balustrading Sections
One complete Balustrade section is 600mm (24") long and approx 600 (24") in hight.
A complete section comprises a base plinth, a top coping and 2 - 3 balusters (balastrades)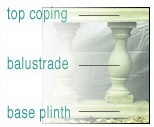 Balustrade Pedestal
One complete pedestal section is (14")sq and comes in 3 parts

A complete pedestal section comprises a pedestal base, an identcical pedestal coping and pedestal middle insert part.